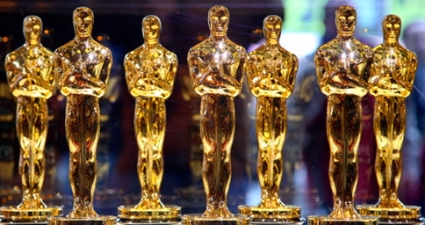 Diventa quasi una tradizione il post in cui presento la cinquina delle nomination per il premio
Oscar
per il Migliore Documentario. L'annata 2014 vede in corsa cinque titoli di cui, come spesso accade, il grande pubblico non ha mai sentito parlare. Personalmente ho avuto la fortuna di assistere alla presentazione di
The Act of Killing
durante lo scorso
Milano Film Festival
e le parole di
Joshua Oppenheimer
sono state tra quelle che lasciano il segno. Difficile non pensare che un film così incredibile, che può accreditare niente meno che Werner Herzog e Errol Morris alla produzione, non sia il favorito alla vittoria per questa edizione.
Il film documenta alcuni anni trascorsi da Joshua Oppenheimer in Indonesia, per raccontare la storia di Anwar Congo e i suoi sodali. Ora sono anziani attori, volti noti della televisione indonesiana, ma un tempo erano i capi degli squadroni della morte che imperversavano sull'isola di Giava. Giovani bagarini che lavoravano davanti ai teatri, entrarono ben presto nell'orbita dei ribelli di Suharto e, una volta iniziato il colpo di stato, diedero personalmente il loro contributo a uccidere o a ordinare l'eliminazione di migliaia di persone: cinesi, filocomunisti e dissidenti (o presunti tali) di vario genere.
Il secondo film è Cutie and the boxer, di Zachary Heinzerling e racconta la strana storia d'amore, ambientata a New York, tra il pittore "boxer" Ushio Shinohara e di sua moglie Noriko.
The Square
di Jehane Noujaim è invece un lucido ritratto della rivoluzione egiziana nata in Piazza Tahrir, concentrando il focus su cinque rivoluzionari e su come riescano a conservare intatti i propri ideali per difendere la propria nazione.
Si parla di guerra invece in Dirty Wars, di Richard Rowley, un film che immerge direttamente nel cuore della guerra basato sul libro Dirty Wars: The World Is a Battlefield di Jeremy Scahill.
Di ben altro taglio il film
20 feet to stardom
di Morgan Neville, un documentario che indaga il mondo dorato del rock visto da chi lavora nel backstage dei palchi di grandi star come Bruce Springsteen, Sting, Mick Jagger, Sheryl Crow e tanti altri big internazionali. In poche parole il
The Dark side of Rock
!
Abbastanza chiaro per chi sono di parte? Ora non resta che aspettare la notte del 2 marzo!